Seastar Optimus 360
Optimus 360 gives your boat a whole new dimension of control. By developing the joystick function to be intuitive, Optimus 360 allows you to move your boat not only forward and back, but also sideways, by pushing the joystick to the left, or to the right, and even, rotate on a dime, all with a simple twist of the joystick.
Optimus 360 is designed for low speed maneuvering, and really excels in the marina, when pulling in and out of your slip, or docking. Optimus 360 uses intelligent programming to minimize the amount of shifting required to complete a manoeuvre.
With progressive throttling, the joystick becomes a natural extension of your hand. A light push on the joystick provides minimal thrust while more thrust can be applied by pushing harder on the joystick. The boost mode increases the RPM to give you more thrust when needed.
Each component has been designed to complement the other, resulting in a seamless experience of steering control in virtually every situation on the water. The high level of engineering also extends to the reliability of the system, with quality materials, careful manufacturing and redundant systems, all to stand up to the rigors of life on the water.
System Components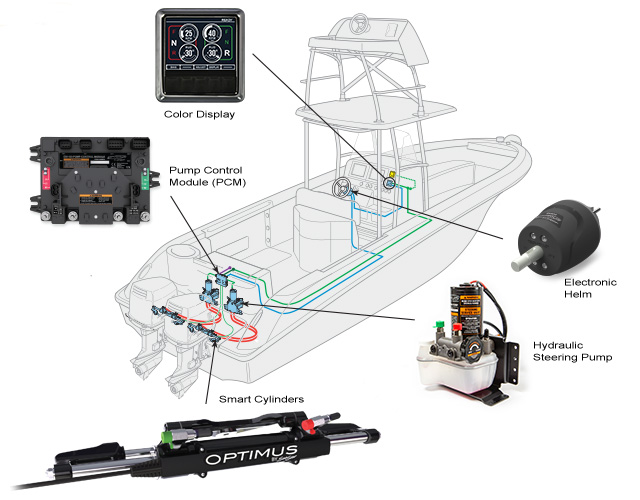 Optimus EPS Electric Helm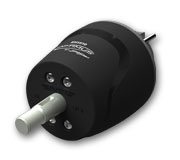 Features
Adjustable helm turns and steering wheel effort.
Speed sensitive helm turns, effort and response
Dual independent sensors and circuits
Electronic helm
Benefits
Adjustable steering for maximum comfort
Adjustable effort and steering sensitivity at speed
Provides redundancy for reliable operation
No hydraulic oil at helm
Adjustable steering wheel position
Optimus Smartcylinder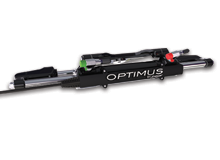 Features
Dual independent non-contact sensors
Proven SeaStar cylinder design
Integrated rudder feedback unit (RFU)
Adjustable stainless steel ORB fittings
Benefits
Enhances system reliability and operation
No additional RFU required for autopilot system
Simplifies the installation
Allows for easy orientation in any direction
Optimus Hydraulic Steering Pump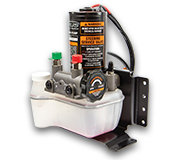 Features
On demand hydraulic steering pump
Simplified auto-purge mode
Designed using SAE J-1171 rated motor
Third party auto-pilot certified
Integrated service/bypass valve
Benefits
Significantly reduces overall power consumption
No oil cooler required for hydraulic fluid
Allows purging system with existing components
Meets requirements for ignition protection
A separate auto-pilot pump is not required
Optimus CANtrak display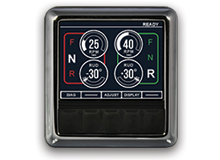 Features
Digital display for messaging and user interface
Displays digital information on system status
Interface to setup, Configure and Purge
Benefits
Interface for adjusting helm turns and effort
Dealer adjustable toe and engine turning ratio
Real-time rudder direction and RPM
No additional device required to set-up
Optimus Pump Control Module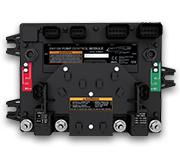 Features
Fault tolerant CAN bus network
Sealed, locking cable connections
Accommodation certified 3rd party autopilot system
Automatic battery selector
Benefits
Ensures system reliability and operation
Ensures reliable cable protection from vibration
No additional auto-pilot pump and RFU
Ensures system operates at peak performance
For any further information regarding any Optimus Electric Power Steering systems or to enquire about a sale please contact us at 01590 681445 or via email at info@hypromarine.co.uk.
No products were found matching your selection.